Meet Michelle's Pharmacy
Michelle's Pharmacy began in 2008 with the purchase of Fritz Pharmacy on the historic Carlinville Square. A pharmacy has been at this location since the 1920s with Steinmeyer Drugs who created and produced Minut Rub Cream. Beatty Burke purchased the business in the 60s and introduced computerization in the 1970's. Charlie Fritz assumed ownership in 1993 after working with Burke's for 30 years.
Michelle's Pharmacy accepted the opportunity to carry on a similar tradition in Gillespie, Illinois in April 2009. Dippold Drugs has been a fixture on Gillespie's Main Street since the 1940s. It has been owned by Jim Verton since 1988 and previously by Ed Dippold and his father before then.
Customer Service is the hallmark cornerstone of Michelle's pharmacy. Employees routinely go above and beyond expectations to meet our customers' needs. We take the time to work with our customers.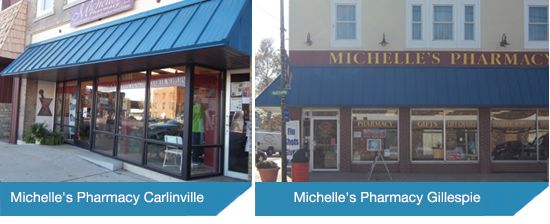 Our Vision
Michelle's Pharmacy, with 2 convenient locations, offers prescription filling services while specializing in customer service. We also offer patients medication adherence programs and disease state management with a focus on heart disease & diabetes. Durable medical equipment services are available to help patients age in place, and health promotion/resource services are offered to better understand and address patients' needs and goals for a healthy lifestyle.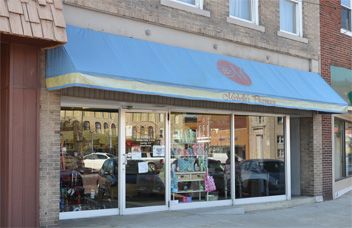 Your Health Is Our Specialty
Michelle's Pharmacy provides prescriptions in partnership with patients for adherence and disease state understanding through an automated filling system and personalized counseling that addresses patient needs and concerns. Pharmacy services also include specialty medications, 90 day prescriptions, vaccinations, drive through & delivery, medication therapy management and adherence programs.
We offer durable medical equipment in an appealing, accessible retail setting allowing patients to select the appropriate device to help them age in place. DME offerings include:
Mobility
Oxygen
Ostomy
Braces
Specialty in orthopedic shoes and foot care
Health promotion services include a broad range of educational tools that empower patients to take control of their health. Health services include disease education classes, natural foods, nutraceuticals and supplements.